Resident Evil 9 Leaks Hint at Terrifying New Monsters!
August 05. 2022.
Resident Evil 9 has received a sizeable leak detailing a range of the game's supposed elements, from its setting to its terrifying new monsters.
The Resident Evil franchise is on a hot streak right now. Though it had a few off years at the end of the 2010s, with Resident Evil 6 going off the deep end a bit, and the franchise straying a little too close into schlocky B-movie action territory, Capcom's really picked up the slack in recent years. Starting with Resident Evil 7 in 2017, picking up the pace with the Resident Evil 2 Remake in 2019, and continuing to deliver with the recent Resident Evil 8, it seems as though the franchise is finally back on top of the survival horror genre. And the recently leaked Resident Evil 9 might just keep it there.
Right now, Resident Evil 9 hasn't been confirmed in any official capacity, but just a few days ago, one anonymous source posted a slew of leaks to 4chan. While these Resident Evil 9 leaks should certainly be taken with the biggest grain of salt known to man, the information within is pretty exciting. If true, it could mean that Resident Evil 9 is the scariest game in the franchise to date.
Resident Evil 9's Leaked Monsters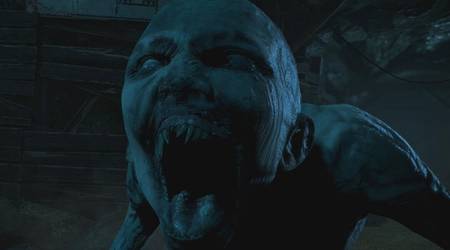 Allegedly titled "Resident Evil Apocalypse," the 9th installment in the horror franchise will introduce a brand-new setting, and some terrifying new monsters - at least, according to the leak. Set in a ghost town surrounded by thick forests, Resident Evil 9 will apparently focus on a mysterious "9th Moon Phase," and will see the player battling foes in a variety of claustrophobic caves, shacks, and rivers.
According to this leak, Resident Evil 9 is heavily inspired by folk tales and mythology, which extends to the game's story, setting, and monsters. The leaker claims that the game is going to focus on body horror more than the series ever has before, and will include a slew of new monsters, two of which are allegedly called "Wendigo" and "Goatman." Originating in Native-American folklore, a Wendigo is an antlered monster that resides close to large bodies of water, often surrounded by forests. A Wendigo's traits have obviously changed over the years, as is the case with all folklore, but a key defining trait is that a Wendigo is a cannibal, and a savage one at that. A Goatman, on the other hand, is often said to be a half-human, half-goat creature, often believed to wield an axe in its pursuit to protect its woodland home. Both of these monsters sound suitably horrifying, and fit the modern Resident Evil trend of adapting popular mythology, just as Resident Evil 8 did with lycans.
But according to this leak, these monsters are much more than they seem on the surface. Apparently, these new monsters will be able to shapeshift and will often disguise themselves as friendly human NPCs that the player has met earlier, and that they've since killed off-screen. This could, obviously, be used to trick the player multiple times, and could potentially keep the player on their toes for the entirety of the game's length. The leak also states that these new monsters can shapeshift at will, using some pretty intelligent AI. One of the bosses in Resident Evil 9 is also described in this leak, apparently being a gigantic black dog called a Barghest, which comes straight from Northern English folklore. If these leaks are even remotely accurate, then Resident Evil 9 could turn out to be one terrifying horror experience.
Resident Evil 9 is rumored to be in development.
Resident Evil 9 Leaks and Info Videos Here!
on ZeroGems!
Source from
gamerant.com
by Cameron Swan